Ten things their digital marketing team/agency wishes hotels knew
My team was in charge of digital marketing for more than 50 properties. The budget we used was in the seven figures (USD) per year. The ROI and CPA requirements were stringent. The team frequently lamented that a distribution, E-commerce, revenue manager, or general manager did not understand what it took to run a successful digital marketing campaign.
It was incredible to see so many ideas, tactics, and team members come together beautifully in a perfectly choreographed delivery of amazing numbers like 20 in ROI and under 2% in CPA when it worked. When that happens, the properties know how to handle it properly.
Preparation period/ optimization time
When it comes to guest booking behavior, most hotels understand lead times. However, many believe that you can spend money on digital marketing and immediately turn on the business tap.
Every rate change, offer modification, and package addition requires time to spread. Prospects and guests require time to conduct research, consider their options, and make a decision. You must allow enough time for your guests and your digital marketing team/agency.
If you change the above too frequently, you are not only adding unnecessary work to your digital team, but you are also confusing the guests. Advertising channels are also honing their effectiveness by directing advertisements to specific audiences. An integrated online campaign typically takes a week to produce optimal results.
This preparatory period should undoubtedly be included in your planning.
Marketing channel lead time
The longer a marketing message is broadcast, the more people will see it. If you can't keep your cool, you're looking at either a limited distribution of your message or much higher costs of reaching a large audience in a short period of time.
Understand what you can do based on the amount of time you give the digital marketing team.
24 hours or less - they could boost a social media promotional post you created
Understand what you can do based on the amount of time you give the digital marketing team.
2-4 days - social media ads and boosting (many hotels do not know that ads are different from post boosting on FB)
5-7 days - they can add search ads and translate them in key languages
3-5 weeks or longer - can add display/programmatic ads, CRM/email marketing campaign
Not only the direct channel
A successful digital marketing campaign aims to influence a potential guest regardless of how they book. Most hotels would prefer that their guests book them instead of a competitor on an OTA. But OTAs don't care because they will get their commission/margin no matter what.
Many hotels believe that digital marketing is only about direct bookings and their own websites. They do not want to invest in digital marketing if the direct channel is not contributing significantly to their revenue.
Taking a comprehensive approach will show you how to use digital marketing to influence booking patterns across all online channels.
Work on a holistic digital marketing campaign for a wider reach. Time to convert them to direct will be lower in the sales funnel and when they visit your property.
Pricing outperforms promotions
Your price is seen by a much larger audience than your promotions.
Your lead in price is displayed to a large number of potential guests via OTAs, metasearch, and your own website, among other places. Your promotion includes your website, some advertisements, and possibly some OTAs. If a prospect does not visit your website or express an initial interest in your property, they will never see it.
Promotions as a hook are important for the digital marketing team to lower the sales funnel, but having the right price first will get the audience interested in your property.
For a successful marketing campaign, the right price is critical.
Simplify the choices
If you have 15 room types, 10 rate types, 10 packages, and 6 promotions, your digital marketing team's messaging will be dispersed, and your guests will be confronted with the paradox of choice.
Too many confusing options are the primary cause of the booking engine's low conversion rate.
Less is more.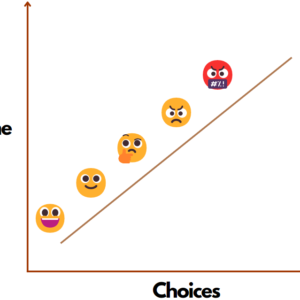 (Hick's Law says that the more choices you present your users with, the longer it will take them to reach a decision.)
Conversions get more conversions
In today's world, it's all about algorithms. The more people who interact with a social media post, the more views it receives. When your OTA bookings reach a certain threshold, they will increase and if you can maintain the supply of rooms at the right price, the momentum will sustain.
A steady stream of conversions is required for your digital marketing strategy to hit its stride. That is the signal to your advertising channels to drive more traffic to your website/pages.
Assist your digital team in increasing conversions.
Feed the funnel
The booking or sales funnel can only deliver what is fed into it at the beginning. The more you feed it at the top, the more it will come out as conversions and guests through your doors at the end.
You could capture most of the traffic if you target your property name or brand. However, that will not nearly be enough. Most hotels expect 60-90% of their monthly revenue to come from new guests. You can't just focus on capturing existing demand; you must also constantly generate new ones.
Your digital marketing team understands this and will broaden their search with social media, location-specific keywords, lookalike audiences, and other tactics.
To feed the funnel, they need a larger budget.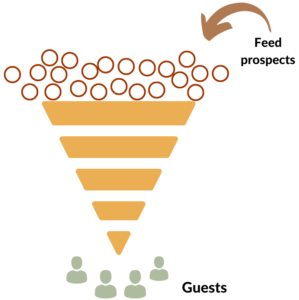 Nuances of advertising on social media
This is possibly the most misunderstood and misapplied marketing channel. Hotels suddenly had more control over their voice when they could post content, pictures of hotel events, and promotions for food and drink. "Let us create a post and boost" is their mantra now. Most hotels do not understand that there are many other advertising tools at the disposal of their digital marketing team/agency.
This is why my team separated social media functions. One group was in charge of community building and engagement, while the other was in charge of advertising via social media.
On social media these days, it's mostly pay to play. Most hotels are unaware that when they post something, only a small portion of their audience sees it. You must pay to reach your own followers. Hotels can help the digital marketing team by being authentic and focusing on the needs of their followers. The digital marketing team can then reach a larger proportion of their followers and like-minded people.
Focus on organic social media efforts and leave paid advertising to the professionals.
Geographic targeting
Geotargeting marketing messages is possible in all advertising channels. Not only can your OTA friends do this, but so can your digital marketing team.
What they may be missing is property-specific information on changes in your booking patterns. If you notice an unexpected increase in bookings from a specific country through an OTA or all of them, your digital team can devise a localization strategy to help boost the POS and get more of them direct.
Feed this intelligence to them.
CRM and loyalty
Finding a new guest costs five times more than retaining an old one.
Bringing guests to your property costs a lot of money and time. The less time you have to spend looking for new ones, the more profitable you will be. Your digital marketing team hopes that by converting more of your visitors into loyal customers, you are maximizing their contribution.
The next level involves investing in CRM technology, communication automation, and personalized service delivery.
The digital marketing and CRM teams complement each other's efforts admirably.
Although digital marketing and CRM may appear complex, the principles outlined above are simple to implement. The more you learn, the better. No matter where they sit, the feedback loop between the hotel team and the digital marketing team should be effective.
Have you looked at your revenue numbers lately? Over 50–70% of it probably comes from your OTA partners and your own website. You might not know how many of your wholesale rates are being sold online. If you want to manage your online revenue seriously, you need to take digital marketing seriously.
The above tips and nuances should help you and your team get the most out of the money you spend on digital marketing.