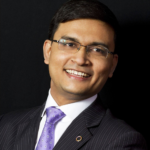 Update - 14 November, 2022
I have taken up a new corporate role. Navigate to LinkedIn for details.
---
I am a digital transformation, marketing and E-Commerce expert with over 20 years of experience in the hospitality and travel industries. My background includes building a technology stack, digital marketing, online distribution, CRM, loyalty programs, mobile app development and rollout, and more.
A keen eye for ever-changing technology and consumer behavior trends has enabled me to quickly retool ongoing practices in order to gain a sustainable competitive advantage for the companies for which I have worked. Over the years, this has included social media, OTA distribution, intent-driven marketing, rich media, mobile transition, brand enhancement, marketing automation, data-driven culture, and personalization at scale.
All of this has enabled me to significantly increase revenue generated through online channels at a fraction of the cost of technology and marketing. I've also enjoyed building a high-performance culture and a motivated team that I admire and love.
Personal interests include travel, technology, and movies, and I believe in personal fulfillment through balance.
Conference Circuit Highlights
Direct Booking Summit: Asia-Pacific 2019
Digital Travel Summit APAC 2017
HSMAI Revenue, Digital & Distribution Strategy Conference - Bangkok 2017
China Hotel Marketing Conference - 2016
Think Display with Google: Advertiser Case Study
In the News
Early market trends: Southeast Asia's road to recovery
Why This Is a Seminal Moment for Asia's Domestic Travel Market
COVID-19 and how Asia-Pacific hoteliers can respond in times of crisis
How to adjust strategies without jeopardizing your future
Shifting Away From The PMS As The Data Warehouse
Google launches hotel search site: "This could undermine OTAs"
Google seems to be taking over the role OTAs play in the guest journey - and doing a better job
Google Quietly Releases Its Hotel Booking Destination With Potentially Huge Implications
Why Travel Marketers Shouldn't Rely On Google To Drive Traffic & Sales
China is the wild west of hotel distribution
5 pillars of ONYX Hospitality Group's localization strategy in China
Game on: OTAs still have the edge but for how long?
Company collaborations: Working with more than just agencies
Travel brands, are you making the most of mobile?
How to maximise potential sales on all channels in real time
A complicated relationship - OTAs and hotels
Is rate parity a necessary evil in the battle for market share?
Tips for Hotels in the OTA-Direct Battle
9 Not-To-Be Ignored Trends For Hotel Distribution In 2014
Case Studies*
Multi-Channel Funnels to optimize the mix of its digital marketing channels to drive a 44% increase in website sales
eInsight CRM & eNgage success story
ONYX Hospitality Group embarks on a journey of mass personalization
Upselling via CRM at ONYX Hospitality Group
ONYX Hospitality Group Achieves 40% Increase in Conversion Rates with Changes to their Booking Engine
*Most of the things on this page were made possible by my team and partners.