Why do hotels make such a big deal out of one-day festivals and events?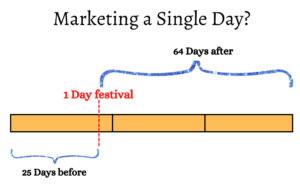 One question I've had is why hotels feel the need to devote so much of their marketing budget, content space, and effort to single-day festivals or events. To be sure, they are a good way to promote yourself and catch the attention of some people. But ignoring all the other guests who need a place to stay for a long time before and after the event seems like a missed opportunity.
Consider Loy Kratong or Christmas (or add your own festival here). They get a lot of attention in marketing plans and are promoted weeks or months ahead of time.
Packages and offers compete with everything else for promotional space and advertising dollars.
What are the odds of catching the right guest who will be visiting the property for that one day?
What about the weeks and months ahead, and all the days that follow?
If you don't use segmentation, hyper-targeting, and performance management well, you may spend all of your marketing money on a single day instead of taking advantage of opportunities on adjacent days.
Think again.
Do you agree?